2nd One Day International Interaction Session on
Recent Advances in Research Methodology and Studies in Earth Sciences and their applicability in NE India
(RARMSES-NE INDIA 2.0)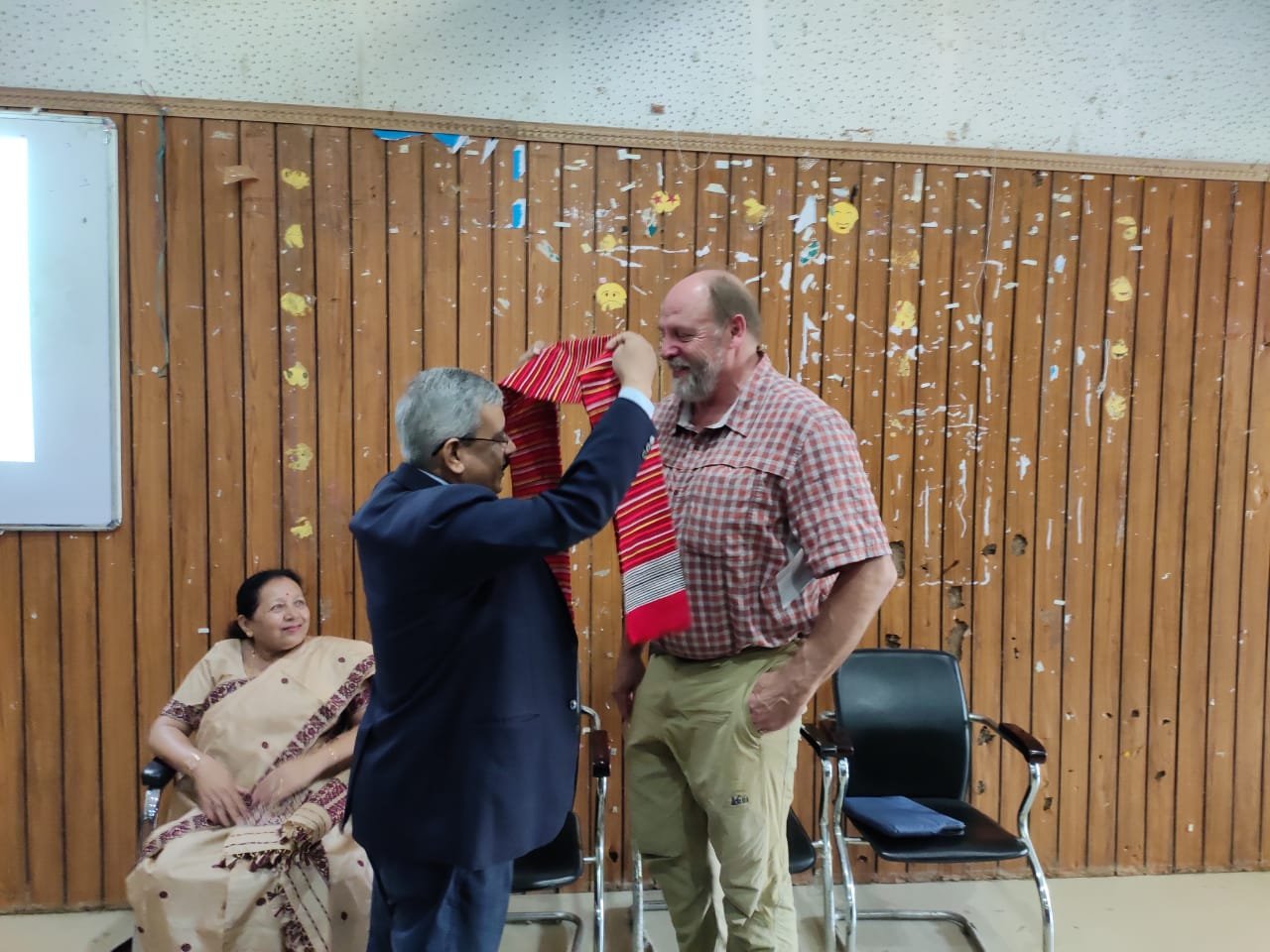 On 27th March, 2023, Department of Geology, Jagannath Barooah College (Autonomous), Jorhat, India organized the 2nd One Day International Interaction Session on Recent Advances in Research Methodology and Studies in Earth Sciences and their applicability in NE India (RARMSES-NE INDIA 2.0) only in physical mode. In the inaugural session, Dr. Nurul Amin, Head of the Department of Geology, welcomed the faculty members, students and the resource person for this event Prof. Michael D. Blum. He is a world renowned Geomorphologist and sedimentologist who has been listed among the World's top 1% of the influential scientists across all the disciplines. Dr. Amin also felicitated Prof. Blum with traditional Gamusa. Dr. Deepa Dutta, former head and faculty of the department, presented a memento to Prof. Blum.
Dr. Raghupratim Rakshit, faculty of the department gave a brief introduction about the resource person. Prof. Michael D. Blum is at present serving as the Scott and Carol Ritchie Distinguished Professor and Director of Graduate Studies, Earth, Energy and Environment Center, University of Kansas, USA. He worked in many esteemed institutions like Southern Illinois University, University of Nebraska-Lincoln, Louisiana State University & NASA Johnson Space Center. Before joining University of Kansas Prof. worked as Research Scientist in ExxonMobil Upstream Research company. He is also the member of American Geophysical Union, Geological Society of America, International Association of Sedimentologists, Society for Sedimentary Geology and American Academy of Arts and Sciences. Prof. Blum also received many prestigious honours and awards. He is working in the field of Earth-surface processes, Fluvial and coastal sedimentology, Geologic responses to global climate and sea-level change and Source-to-sink sediment dispersal in the stratigraphic record; through many high valued research projects and grants including several from NSF. His works were published in more than 80 articles in the form of scientific papers and books in many esteemed journals and publishing houses, which are much appreciated by the geoscience community and received near about 10 thousand citations. He is also in the editorial boards of many reputed international journals. Prof has also supervised around 50 Master's and Ph.D. students. He has delivered many talks as resource person and keynote speaker in several conferences around the globe. Dr. Rakshit invited Prof. Blum in the podium to deliver his speech.
The title of the talk was "Thoughts on Surface Processes and Stratigraphy" with special focus on Ganga-Brahmaputra river system and delta. He summarizes some general concepts like Historical Changes, Sediment-Routing Systems, Significance of Scale, Development of New Technology and Techniques. He shares his vast experience with U-Pb dating technique and its use in earth surface processes. The importance of Zircons and how they carry the 'imprint' of different tectonic and time evidences were also explained. Finally, Prof. Blum shared about his latest project and the related concept of The Himalaya to Bengal Fan Source to Sink (S2S System) relationship. His experience with International Ocean Discovery Program (IODP) project in Bay of Bengal had revealed the relation between tectonics and climate on sediment dispersal. Lastly he had a good interaction session with the students and faculty of the college.
At the end of the session, Dr. Chaitra Dhar Taye delivered the vote of thanks. He expressed gratitude to Prof. Blum for his talk and also thanked the Principal, Head and other faculty member for gracing the occasion. Dr. Taye also appreciated the presence of about 100 students from various departments for their participation in the event. Lastly, the Principal, Dr. Utpal Jyoti Mahanta presented the certificate of appreciation to Prof. Blum.